3D printing technology creates medical miracles
The on-demand advantages of 3D printing continue to allow medical institutions to reach new heights in patient care. Surgery models, guidelines, and pandemic-related personal protective equipment are being printed at an accelerated pace, right where caregivers and patients need these items.
Direct printing in the hospital
The Mayo Clinic in Minnesota continues to raise the bar for its industry-leading model of bringing manufacturing into the healthcare environment, and recently expanded its downtown manufacturing facility to 7,000 square feet.
Medical Director Dr. Jonathan Morris said: "Since we created clinical services that use additive manufacturing for patient care, we have been trying to use it as the standard of care in some cases." Since the start of its project 15 years ago, production The volume has exploded from about 20 anatomical models per year to 3,000 models per year, used for an average of 850 patients per surgical sub-specialty in the main Rochester campus. These majors include thoracic, colorectal, neurology, pediatrics, urology, orthopedics, and cardiovascular; the top majors served by Morris Laboratories are benign or cancer facial reconstruction; all orthopedics; and congenital heart disease.
Mayo further makes ordering 3D anatomical models a standard of care by making it easier for doctors to order 3D anatomical models.
For example, in the case of jaw tumors, the surgeon can see the patient and order anatomical models and surgical guides at the same time as the CT scan. This triggered the radiology department to use a specific protocol designed for 3D printed anatomical models. All of these are automatically transferred to our clinical department, which is concentrated in the radiology department. We have established a manufacturing workflow solution in clinical care.
Quality, technology and utility
Morris added that, like any other manufacturing process, quality control is incorporated into every step. We can check the dashboard to see how many models we have, how many people are used, and when the surgery date is. We can use this type of printer to audit how many jawbone resections we have done each year.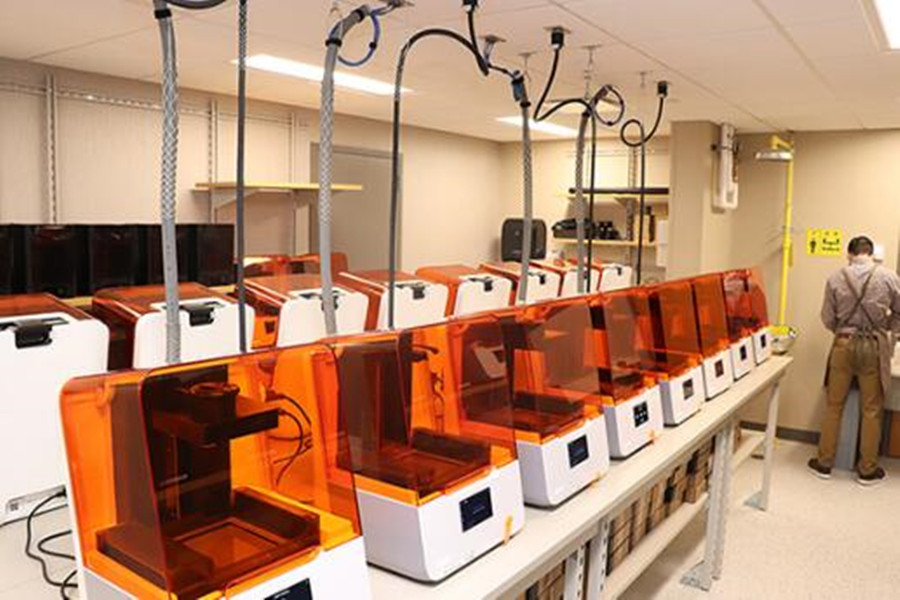 Because Mayo's Additive Manufacturing Center is equipped with sub-specialized radiologists, they can give the model to, for example, an orthopedic oncologist surgeon, and point out where the edge of the tumor is-this is something that external 3D printing companies cannot do. of.
In terms of materials, Mayo has signed volume contracts with suppliers to ensure the consistency of equipment, "because if we screw things in a person's body, there can be no difference in raw materials."
Mayo's manufacturing model means that its experts can consult, design, and print across the entire enterprise--for example, a device can be printed at the Jacksonville campus in Florida, or printed parts can be sent between states.
This is a big paradigm shift.
Rather than using traditional manufacturing methods in a medical device company-the surgeon may upload images through a cloud that meets the HIPAA standard, arrange a time with a company's engineers, then review the plan and re-review the plan, and then the device is manufactured somewhere and shipped to the hospital --This is indeed a disruptive way of manufacturing medical equipment and anatomical models. Although other centers across the country are increasing their use of 3D printing, Mayo has been at the forefront. We have established supervision, IT, and hospital internal infrastructure in terms of space, equipment, and personnel to make it a reality.
"Ultimately, we are using industrial manufacturing equipment to change the way we fundamentally treat patients, and we are doing this at the point of care in a distributed manner; traditional manufacturers have become hospitals." Morris said
Concern for education
The Cleveland Clinic provides a unique way of 3D printing in hospitals that combines augmented reality (AR), novel applications, and an emphasis on patient education. In addition to the 3D printed surgical models and tools, the Cleveland Clinic also printed an injection mold of a cured silicon airway stent for a cancer survivor who suffered an abnormal narrowing of the trachea and bronchi.
Carl West is the director of the Cleveland Clinic Medical Device Solutions and a staff member of the Lerner Research Institute (LRI). He brought his biomedical engineering background to the institution 18 years ago and began to study aortic aneurysms. Stent graft. After purchasing the clinic's first 3D printer in 2003, he is now in charge of overseeing LRI's 3D printing professional team. They run flexible, rigid and color materials on an array of six printers, including carbon fiber and ABS, including a Stratasys J750 polyjet and a Ultimaker fused deposition printer. We have a large selection of materials because we never know what we will be asked to print. In the case of heart valve malformations, the valve and annulus can be printed with flexible materials, while calcifications can be printed with hard materials.
LRI interacts directly with clinicians and patients in the clinic to formulate the best treatment plan. West said that printing a 3D surgical model requires careful interpretation of medical images to accurately print out the correct anatomical structure; this work may take several hours or A few days. But this critical work may lead experts to completely change the method of surgery - such as the case of a boy with a congenital heart deformity. In a recent case, West and his team combined AR and 3D printing for facial transplantation.
Virtual 3D model
West said that adding HoloLens AR holographic computer helmets can provide the next level of anatomical certainty. For example, by observing a 3D printed model of the heart through a helmet, experts can intuitively see the flow of electricity or blood, or how valves open and close.
In addition to pushing the boundaries of 3D printing in hospitals, LRI is working to create a 3D printing center behind a glass wall, allowing patients and visitors to see the models being printed, as well as the models previously displayed. This will help the public learn more about anatomy, including the functions of organs and their sizes.
For example, we have printed models of diseased and healthy livers, and we made them transparent so that you can see blood vessels because what you find in the diseased liver is lack of blood vessels. "A doctor kept all the liver models printed by West's team to educate patients about diseases and procedures.
Looking to the future, West envisions printing patient-specific implants in hospitals. For the military, a soldier's dog tag may contain all the data needed by a caregiver to print a replacement for the damaged bone. In terms of preoperative training, surgeons can have a desktop printer in their office to print anatomical models for practice. This will continue to promote the advancement of minimally invasive care.
West said: "I really did not expect that we would replace the aortic valve without opening the chest. He added that now this has become a reality, and the next one is mitral valve replacement. Many of them are because 3D printers allow The emergence of desktop simulations and models."
An obvious advantage of dentistry
Although 3D printed dental fixtures such as dentures and implants have become commonplace, Perry Jones, a general dentist in Richmond, Virginia, sees an opportunity to simplify the direct manufacturing of orthodontic devices through digital scanning and modeling. This will prove to be particularly useful for eliminating multiple physical models used to produce multiple transparent orthodontic devices similar to Invisible Orthodontics to adapt to the patient's progress at different stages.
His ultimate goal has three aspects:
-Elimination of impressions taken directly in the patient's mouth with messy and inaccurate elastic materials.
- Eliminate models and directly manufacture final-use appliances such as retainers, bite protectors and mouthguards.
- Eliminate the cumbersome and time-consuming software required to repair the surface of digital files and trim digital models.
Jones said: "My main focus is to help simplify the daily dental process. 3D printing has not yet been well integrated into daily dental practice. Digital scanning technology is not new, but the adoption is very slow. I will be the first in 2005. The iTero scanner was put into use in the United States. However, the world market penetration rate of intraoral digital scanning was only about 10%. In more than six years, I removed the plaster and fully integrated 3D printing in my general practitioner clinic. "
Most dental clinics make their own appliances, such as bite guards and retainers. The most commonly used technique for making thermoplastic appliances requires an impression, usually with elastic materials, such as PVS or alginate, and traditional processes require the use of gypsum material to cast the model. Digital scanning allows dentists to eliminate the "confusion and inaccuracy" of elastic "impressions and plaster cast stone models."
That virtual model can be used to create a physical model, using additive manufacturing to create a physical polymer/resin model. The 3D printed model can then be used to create actual appliances using vacuum formed or pressed thermoplastic materials."
In the case of transparent invisible American aligners, another layer of software-segmentation software is required. Create a virtual model from a digital scan of the patient. The software can then create a virtual'mold', which can then be moved virtually, using established orthodontic and physical principles to create virtual movements. The software allows the operator to view and create a virtual model of each movement stage. The virtual model can be sent to a machine, such as a 3D printer, to create a physical resin/polymer model.
Jones' patents for software, processes, and prototypes for direct manufacturing of end-use products are under review. This process is called galvanometer-guided material ablation.
Link to this article: 3D printing technology creates medical miracles
Reprint Statement: If there are no special instructions, all articles on this site are original. Please indicate the source for reprinting:https://www.cncmachiningptj.com/,thanks!
---
PTJ® provides a full range of Custom Precision cnc machining china services.ISO 9001:2015 &AS-9100 certified. 3, 4 and 5-axis rapid precision CNC machining services including milling, sheet metal to customer specifications,Capable of metal & plastic machined parts with +/-0.005 mm tolerance.Secondary services include CNC and conventional grinding, laser cutting,drilling,die casting,sheet metal and stamping.Providing prototypes, full production runs, technical support and full inspection.Serves the automotive, aerospace, mold&fixture,led lighting,medical,bicycle, and consumer electronics industries. On-time delivery.Tell us a little about your project's budget and expected delivery time. We will strategize with you to provide the most cost-effective services to help you reach your target,Welcome to Contact us (

sales@pintejin.com

) directly for your new project.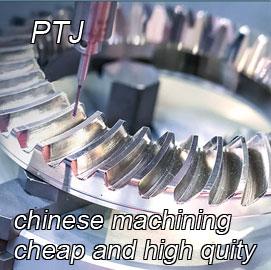 Our Services

Case Studies

Material List

Parts Gallery