What Are The Practical Properties Of Hard Oxidation?
The Practical Properties Of Hard Oxidation
---
What are the practical properties of hard oxidation? -Anodizing_Hard Anodizing_Hard Anodizing_Anodizing Treatment_Diecasting Aluminum Anodizing Manufacturer --- PTJ Shop
The Practical Properties Of Hard Oxidation
Protective practical performance of aluminum hard oxide film during processing:
A. Hard Oxidation Building Industry-The hard oxidation requirements of the construction industry are characterized by appearance and longevity, because its working conditions are characterized by permanent exposure and static properties.
B. Measuring Hard Oxidation Area-The area available for one test on an effective surface.
C. Spontaneous color hard oxide film-this kind of hard oxide film is a kind of specific aluminum material in a suitable electrolyte (usually based on organic acids) under the electrolytic action of the alloy itself to generate a A colored hard oxide film.
D. Decorative hard oxidation-hard oxidation mainly makes the appearance uniform and beautiful.
E. Protective Hard Oxidation-The characteristics after hard oxidation are abrasion and corrosion resistance, as far as appearance is secondary or insignificant.
F. Hard oxidation electrolytic coloring-coloring of hard oxide film, which is colored by metal or metal oxide electrodeposition through the gaps of the oxide film.
G. Hard oxide sealing-aluminum is subjected to hydration sealing treatment after hard oxidation to reduce voids and adsorption capacity in the oxide film.
H. Colored hard oxide film-The hard oxide film of aluminum is colored by adsorbing dyes.
I. Colorless hard oxide film-basically colorless and transparent hard oxide film.
J. Bright hard oxide-its main characteristic is to make the surface of aluminum have a high specular reflectance.
K. Hard oxidation effective surface-the part of the surface of the object with a coating and an oxide film, the performance and appearance of this part of the oxide film are important.
The choice of hard oxidation effect is completely different from that of ordinary oxidation.Of course, there are differences in price.High-end products and wear-resistant products choose hard anodizing as the best.
Link to this article: What Are The Practical Properties Of Hard Oxidation?
Reprint Statement: If there are no special instructions, all articles on this site are original. Please indicate the source for reprinting:https://www.cncmachiningptj.com/,thanks!
---
PTJ® provides a full range of Custom Precision cnc machining china services.ISO 9001:2015 &AS-9100 certified. 3, 4 and 5-axis rapid precision CNC machining services including milling, turning to customer specifications,Capable of metal & plastic machined parts with +/-0.005 mm tolerance.Secondary services include CNC and conventional grinding, drilling,die casting,sheet metal and stamping.Providing prototypes, full production runs, technical support and full inspection.Serves the automotive, aerospace, mold&fixture,led lighting,medical,bicycle, and consumer electronics industries. On-time delivery.Tell us a little about your project's budget and expected delivery time. We will strategize with you to provide the most cost-effective services to help you reach your target,Welcome to Contact us (

sales@pintejin.com

) directly for your new project.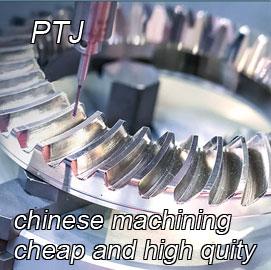 Our Services

Case Studies

Material List

Parts Gallery