PTJ Becomes CNC Machining Supplier Of Well-Known European Mold Company
PTJ Becomes CNC Machining Supplier Of Well-Known European Mold Company
---
I always think that the development of the physical manufacturing industry must take a certain amount of time to accumulate and precipitate. Step by step, slowly grow and grow. PTJ has been along the way, although it is hard, but also gains. Not so much that our gain is an increasingly strong PTJ, it is better that we have received more and more customers' recognition and support. This is what we are pleased with. Proud. For this reason, we must work harder to serve every customer.
European Customer Aike Prototype Project Picture 1(Time:
2015.12.21
)
I think we need to be grateful. Thanksgiving can give us awe, and awe can make us give our heart. Here we want to thank Aike for his many years of support. Since the cooperation in 2007, we have cooperated with hundreds of projects and more than 1,000 sets of parts And fixture manufacturing. Although this may also be unpleasant, but more of our joy in facing products from customers in different industries around the world, after each technical difficulty is overcome, this has also imperceptibly trained PTJ into a team with super combat effectiveness.
Aike is headquartered in Europe, but all the supply chains are in China. They involve a wide range of mold types and industries, including experimental molds, simple molds, precision export molds, silicone rubber molds, etc. As long as they are metal parts or plastic prototypes, whether they are In which industry, almost no one comes, but fast is their commitment to all customers. For the past few years, we have been Aike closest partners and their largest prototype supplier. Thanks to everyone's efforts, they became a well-known prototype and mold manufacturer in Europe. Until 2018, it was acquired by a large American rapid mold group. After that, our cooperation began to have some small problems. PTJ Shop is constantly developing, continuously upgrading equipment, improving its own strength, and dedicating to provide customers with better parts and prototype plastic products, which is obvious in the results we give to customers.
Link to this article: PTJ Becomes CNC Machining Supplier Of Well-Known European Mold Company
Reprint Statement: If there are no special instructions, all articles on this site are original. Please indicate the source for reprinting:https://www.cncmachiningptj.com/,thanks!
---
PTJ® provides a full range of Custom Precision cnc machining china services.ISO 9001:2015 &AS-9100 certified. 3, 4 and 5-axis rapid precision CNC machining services including milling, turning to customer specifications,Capable of metal & plastic machined parts with +/-0.005 mm tolerance.Secondary services include CNC and conventional grinding, drilling,die casting,sheet metal and stamping.Providing prototypes, full production runs, technical support and full inspection.Serves the automotive, aerospace, mold&fixture,led lighting,medical,bicycle, and consumer electronics industries. On-time delivery.Tell us a little about your project's budget and expected delivery time. We will strategize with you to provide the most cost-effective services to help you reach your target,Welcome to Contact us (

sales@pintejin.com

) directly for your new project.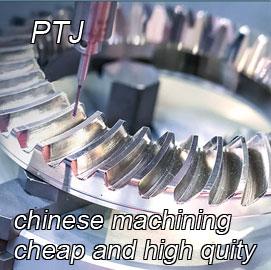 Our Services

Case Studies

Material List

Parts Gallery