The epidemic promotes the widespread application of 3D printing technology
GM's interest in 3D printing tools stems from two factors.
The first is our nylon 12CF material, which contains 35% chopped carbon fiber. Its excellent strength and rigidity are ideal for various functional prototypes, end-use parts and light tool applications. Coupled with the continued reliability and repeatability they have seen from our high-end FDM system, they started printing things like inspection jigs, hand tools, and end-of-arm tools.
They also use FDM to make replacement parts for pre-production process verification. Recently, they have applied the same concept to the tools required for the production of ventilators to do their best to deal with the crisis of the new crown pneumonia epidemic. In each example, 3D printing helped them greatly reduce delivery time and manufacturing costs.
The J55 3D printer started shipping in July. Does it completely eliminate the need for secondary painting and dyeing operations? If so, why is this important? Similarly, how does the texture option of J55 affect the design process?
Two design engineers reviewing parts manufactured on Stratasys J55 printers
As you have seen in the past few years, Stratasys has been a leader in our multi-material, multi-color printing capabilities.
The office-friendly J55 is the latest example.
It is no longer necessary to dye or color the prototype, and we are able to produce nearly 500,000 different color combinations that match Pantone. We can also print textures such as wood, leather and fabric.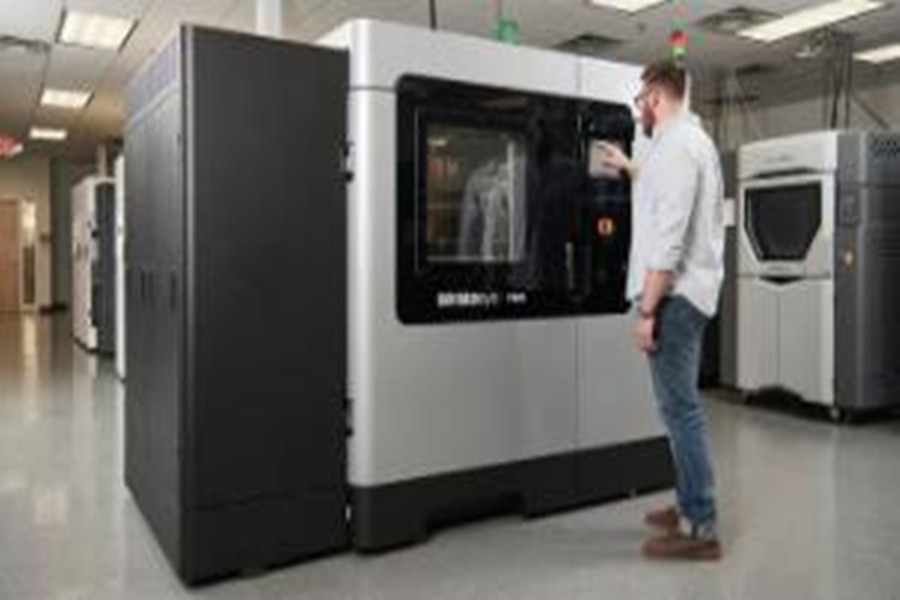 A good use case comes from an automobile manufacturer that used J55 to make a prototype of a shift lever that looks and feels like a real thing, and a perfume bottle from a consumer goods company achieved a similar effect. For product developers, it represents a huge development, because it enables them to dial designs faster and shorten the development cycle by weeks or even months.
Do you think the new crown pneumonia epidemic has accelerated the application of 3D printing and completely changed the manufacturing industry, or will it return to the status quo after the epidemic?
The new crown pneumonia epidemic has aroused widespread concern, especially in the case of fast startup and operation, viable 3D printing has become the mainstream.
As a result, in the past few months, we have seen more senior management participation.
Larger organizations have begun to ask questions about their 3D printing capabilities and how they can benefit in the event of a supply chain gap or other disruption.
Stratasys Fortus F900 3D printers are now equipped with MTConnect, which is the de facto protocol for machine tool communication.
Therefore, I do believe that as we get rid of the pandemic, 3D printing will become a more strategic theme for a series of manufacturing companies to reassess the production and procurement of their key projects.
Nowadays, people are very concerned about the speed, accuracy and volume of 3D printing hardware. But doesn't the real advantage of additive manufacturing come from the various materials developed in the past few years, especially polymers?
absolute. When trying to solve a problem, the first question that an engineer or product designer actually asks is: "What is the most suitable material for the application?" Only after they have answered this question can they determine which processing technology is most suitable Process the material.
Of course, in terms of the number of materials available, we as an industry are still far behind traditional manufacturing. But this has started to change. With the listing of each material, you can see that it is serving new applications that could not be completed before.
There are examples of GM carbon fiber. About a year ago, we also introduced another high-end material called Antero 840CN03. "This is the PEKK (polyetherketoneketone)-based ESD (electrostatic dissipative) thermoplastic currently being used by Lockheed Martin for the development of the Orion spacecraft, and the Orion spacecraft is FDM (fused deposition modeling) The application, without it, wouldn't happen.
Therefore, it definitely starts with materials, especially when we move further into the production of mission-critical components.
Similarly, without the latest developments in generative design software and the support of its functions in the design community, where will 3D printing develop?
Obviously, generative design is a key aspect of the development and success of 3D printing.
For example, you can use generative design and 3D printing to replace many parts on an airplane and obtain higher value or efficiency.
For brand new products, or when you are completely free to redesign old parts, optimizing them for additions, the value is even higher.
Therefore, yes, I think the continued development and adoption of generative design tools will give a huge boost to the entire industry.
There is a video of Stratasys F900 on your website, and Wayne Benson, your director of manufacturing product management, mentioned using MTConnect for process-related data collection. Why is this important?
The request for this feature actually comes from customers in the automotive and aerospace industries, who use MTConnect to collect machine tool data for process analysis and improvement. 3D printers are quickly becoming an important part of this ecosystem. This is why Stratasys serves on the MTConnect advisory board and why we introduced it to the high-end FDM printer Stratasys F900.
We are also developing an API [application programming interface] for third parties, so anyone interested has the necessary hooks to access our operating system.
Stratasys has developed a variety of industry and application-specific 3D printers, including a series of dental systems, the J750 "digital anatomy" printer, and your continuous build platform. Which one of them excites you the most and why?
There are several, but I have to say that this is the Digital Anatomy printer you just mentioned-mainly because it is a space that has not been destroyed for a long time.
Now, doctors can use cadavers and animal models for surgical training or program planning, instead of using cadavers and animal models to simulate human tissues, they use patient-specific, anatomically accurate 3D printed models.
We are still in the early stages, but this has a major impact on the medical community and ultimately leads to a better patient prognosis.
You have been working at Stratasys for almost 10 years, and the company itself has more than 30 years of history. Do you think the 3D printing industry is mature and manufacturers can look forward to continuous improvement, or the technology is just getting started?
From where I sit, we have just started.
Obviously, the first few decades of 3D printing were very focused on rapid prototyping. It was not until the last decade that we began to see a sharp increase in the manufacturing applications of the fixtures, fixtures and other tools already mentioned.
We are beginning to see more and more high-value production applications, and they will continue to expand as materials become stronger and 3D printing processes become more repeatable and scalable.
So even though the additive manufacturing industry is 35 years old, I think we are in the first game in the so-called actual manufacturing sector, especially when you consider the huge opportunities for 3D printing in the transportation and healthcare sectors.
AM technology and science continue to evolve
According to technology market research company ARC Advisory Group, AM will become a standard manufacturing technology in the next five to ten years.
Dick Slansky, senior analyst and director of the PLM Research Department, wrote in a recent article: "By getting rid of the constraints of traditional manufacturing processes, generative design methods based on AI algorithms and innovative designs using new materials will become very important. Universal." Network. "In addition, these designs will become part of the continuous improvement of production efficiency and optimization processes. AM and its complementary technologies will allow more integration of individual parts and overall simplification of the production process. These designs require less assembly time and reduce on-site maintenance. ."
3Dologie expands product portfolio with Ultimaker
Desktop printer manufacturer Ultimaker has signed an agreement with 3D design and manufacturing solutions provider 3Dologie. The company's customers in Tennessee, Virginia, Carolina and Georgia can now expect affordable prices made from a variety of materials Industrial grade parts.
As a result of a recent agreement, 3D design and manufacturing solutions provider 3Dologie will soon use Ultimaker 3D printing technology to provide services to its customers.
3Dologie CEO Melissa Ragsdale said: "Adding printers with such accuracy and ease of use to our product portfolio, as well as a huge material network, will expand our customer base. , And enable more industries to adopt 3D printing."
Greg Elfering, president of Ultimaker Americas, agreed. "This partnership fills the gap in services in the Southeast region and provides a vital introduction to potential customers through a trustworthy and customer service-oriented partner."
Nexa3D launches expanded ultrafast polymer for aerospace, medical products
Visitors attending the ASME AM Industrial Summit from August 11th to 12th have the opportunity to see the entire high-speed polymer portfolio of 3D printer manufacturer Nexa3D, including its biocompatible medical material xMED412, environmentally friendly cleaning solvent xCLEAN and high-performance polymers xCE-black.
Nexa3D's acquisition of NXT Factory adds a series of supply chain approved powder fusion plastics to Nexa3D's product line, thus doubling its potential market to more than $10 billion.
According to reports, the company demonstrated how its products can break through speed, productivity, and performance barriers, and continue to launch its recently acquired NXT factory quantum laser sintering (QLS) 3D printer for mass production.
In addition, Nexa3D showcased an evolving collaboration with software developer ParaMatters to jointly provide lightweight features for aerospace and medical applications and increase the productivity of digital workflows.
Constellium launches aluminum powder for the AM market
Constellium SE, a provider of aluminum products and solutions, has expanded Aheadd's product portfolio. Aheadd is a high-performance aluminum powder that is said to have exceeded industry standards in terms of AM productivity and component performance.
"As a global leader in innovative aluminum products and solutions, we are at the forefront of the ever-evolving additive manufacturing market. We are proud to be able to expand our product portfolio to serve and meet the needs of customers in all industries, Chief Executive Constellium Officer Jean-Marc Germain said. "The global additive manufacturing market has huge potential with new design and production potential. We look forward to further expanding its potential by providing customers with customized and unique high-performance aluminum powder. "
Now in Xometry: ExOne Metal Binder Jet
Customers of on-demand manufacturer Xometry can now order 3D printed parts made with adhesive jetting technology from ExOne. John Hartner, CEO of ExOne, said: "Our industrial adhesive jets can truly take a product from prototype to final production in a single process that is fast, affordable and sustainable.
Xometry customers can now order such metal parts manufactured using ExOne adhesive jet 3D printers.
Randy Altschuler, CEO of Xometry, agreed. "We are pleased to provide adhesive jets to expand the range of services our customer base can obtain from Xometry's new Digital RFQ Marketplace."
FATHOM buys GPI prototype
The advanced manufacturing company FATHOM was acquired by Midwest Composite Technologies last year, which acquired the metal additive manufacturing service provider GPI prototyping and manufacturing services.
Together with another recent acquisition of ICOMold, these four companies will move forward under the FATHOM brand.
Founded in 2007, GPI is one of the first metal AM service providers in the United States, providing direct metal laser sintering (DMLS) additive manufacturing and CNC machining services, producing aluminum, stainless steel, tool steel, titanium, inconel and Complex metal parts such as cobalt, chromium, are used in on-demand manufacturing applications in the aerospace, medical and industrial markets.
Engineering researchers dedicated to optimizing metal additive manufacturing
The Pennsylvania State University newspaper reported that a $546,806 grant from the National Science Foundation could enhance models used in metal additive manufacturing, resulting in fewer defects in the manufacturing of parts.
Wang Qian, the project's professor and principal researcher, said: "This grant will enable the manufacturing process of high-value components with complex geometries with a variety of different applications."
In a three-year project, Wang aims to develop a new model for laser powder bed fusion AM.
She said: "The overall goal is to improve the quality and consistency of parts, which will help improve the economic competitiveness of metal additive manufacturing."
Link to this article: The epidemic promotes the widespread application of 3D printing technology
Reprint Statement: If there are no special instructions, all articles on this site are original. Please indicate the source for reprinting:https://www.cncmachiningptj.com/,thanks!
---
PTJ® provides a full range of Custom Precision cnc machining china services.ISO 9001:2015 &AS-9100 certified. Large scale machining Manufacturer of medical bags, providing 3D design, prototype and global delivery services. Also offering hard cases, semi-hard EVA, soft-sewn cases, pouches and more for OEMs. All cases are made custom according to specifications with infinite combinations of materials, molds, pockets, loops, zippers, handles, logos and accessories. Shockproof, water-resistant and eco-friendly options. Medical parts, emergency response, Electronic parts, corporate, education, military, security, sports, outdoors and construction industries. Services include case concept consultation, 3D design, prototyping,rototyping,CNC Drilling Services and manufacturing.Tell us a little about your project's budget and expected delivery time. We will strategize with you to provide the most cost-effective services to help you reach your target,You are welcome to contact us directly (

sales@pintejin.com

) .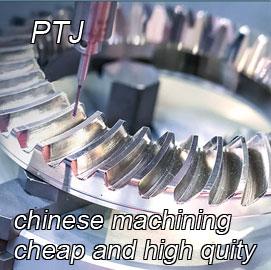 Our Services

Case Studies

Material List

Parts Gallery