Brief description of carbon fiber 3D printing technology and its application in parts industry
Brief description of

Carbon fiber 3D printing
---
3D printed carbon fiber is the second most sought after additive manufacturing technology after metal. Due to the unique properties of carbon fiber, such as: lightweight, high strength, high electrical conductivity, high corrosion resistance, parts made with 3D printing technology often have high precision and high performance.

Carbon fiber 3D printing technology
▶

Laser sintering technology
Material characteristics: Short fiber reinforced nylon, PEEK, TPU and other powder materials
Process characteristics: Mix short-cut carbon fiber and nylon material in a certain proportion, and realize integral molding by laser sintering.

Laser sintered carbon fiber automobile intake manifold function prototype

▶ Multi-jet melting technology
Material characteristics: Short fiber reinforced nylon, PEEK, TPU and other powder materials
Process characteristics: Through the heating of the lamp tube, the part cross section gathers enough heat to realize melt forming under the action of the solvent.

MJF technology printing fiber reinforced parts
▶

FDM technology
Material characteristics: long fiber reinforced PLA, nylon, PEEK and other wire materials
Process characteristics: The long fiber is filled into the conventional wire by FDM technology to enhance the effect.


FDM printed carbon fiber reinforced PEEK wing
Carbon fiber printing method
▶

Chopped carbon fiber filled thermoplastic.
Short-cut carbon fiber-filled thermoplastics are printed on a standard FFF (FDM) printer consisting of a thermoplastic (PLA, ABS or nylon) reinforced with tiny chopped strands, ie carbon fibers. On the other hand, continuous carbon fiber manufacturing is a unique printing process that places continuous carbon fiber bundles into standard FFF (FDM) thermoplastic substrates.
Short-cut carbon fiber-filled plastics and continuous fibers are manufactured using carbon fiber, but the difference between them is enormous. Understanding how each method works and its ideal application will help you make informed decisions about what to do in additive manufacturing.

3D printed carbon fiber made of chopped carbon fiber filled thermoplastic
Chopped carbon fibers are essentially reinforcing materials for standard thermoplastics. It allows companies to print materials that are generally less powerful at higher levels of intensity. The material is then mixed with a thermoplastic and the resulting mixture is extruded into a spool for a melt filament manufacturing (FFF) technique.
For composites using the FFF method, the material is a mixture of chopped fibers (usually carbon fibers) and conventional thermoplastics (such as nylon, ABS or polylactic acid). Although the FFF process remains the same, chopped fibers increase the strength and stiffness of the model and improve dimensional stability, surface finish and precision.
This method is not always flawless. Some chopped fiber reinforced filaments emphasize strength by adjusting the supersaturation of the material with fibers. This can adversely affect the overall quality of the workpiece, reducing surface quality and part accuracy. Prototypes and end-use parts can be made from chopped carbon fiber because it provides the strength and appearance required for internal testing or customer-facing components.

Carbon fiber 3D printing is enhanced with continuous fibers
Continuous carbon fiber reinforced materials.
Continuous carbon fiber is the real advantage. This is a cost-effective solution to replace traditional metal parts with 3D printed composite parts because it achieves similar strength using only a fraction of the weight. It can be used to inlay materials in thermoplastics using continuous filament manufacturing (CFF) technology. A printer using this method lays continuous high strength fibers (e.g., carbon fiber, fiberglass or Kevlar) through a second printing nozzle in a FFF extruded thermoplastic during printing. Reinforcing fibers form the "backbone" of the printed part, producing a hard, strong and durable effect.
Continuous carbon fiber not only increases strength, but also provides users with selective reinforcement in areas where higher durability is required. Due to the FFF nature of the core process, you can choose to build on a layer-by-layer basis.
In each layer, there are two enhancement methods: concentric reinforcement and isotropic reinforcement. Concentric fills reinforce the outer boundaries of each layer (internal and external) and extend into the part with a user-defined number of cycles. The isotropic filling forms a unidirectional composite reinforcement on each layer, and the carbon fiber weave can be simulated by changing the direction of reinforcement on the layer. These enhanced strategies enable aerospace, automotive and manufacturing industries to integrate composite materials into their workflows in new ways. Printed parts can be used as tools and
fixtures
(all of which require continuous carbon fiber to effectively simulate metal properties.), such as tools at the end of the arm, soft palate, and CMM
fixtures
.
Application of carbon fiber materials in the component industry
Nylon 12CF material, a new 3D printed carbon fiber material containing up to 35% carbon fiber, is therefore excellent in properties such as a final tensile strength of 76 MPa and a tensile modulus of 7529 MPa. With a flexural strength of 142 MPa, it is enough to replace metals in many applications, enough to replace metals in many applications, making it ideal for automotive, aerospace and other industries. This carbon fiber reinforced thermoplastic is used to produce high performance prototypes that can withstand the rigorous testing of production parts during design verification to meet the demanding requirements of the production environment and can be applied to fixture manufacturing on the production line.
OXFAB materials are highly resistant to chemicals and heat, which is critical for high performance aerospace and industrial components. Extensive mechanical testing data demonstrates that OXFAB can be used for complete, ready-to-use parts for 3D printing. OPM is implementing key development contracts with customers in the aerospace and industrial sectors for 3D printed parts for commercial and military aircraft, space and industrial applications, which can significantly reduce weight and cost.
Today, the field of additive manufacturing has exploded, and some printers offer the ability to print on carbon fiber. If the 3D printing industry wants to gain more market share in the $100 billion manufacturing market, 3D printing technology needs to be exerted in both process technology and materials. The various advantages of carbon fiber reflect the possibility that this goal becomes a reality. To be sure, to compete with traditional manufacturing, composite materials are bound to be one of the driving forces behind 3D printing becoming mainstream technology.
Link to this article: Brief description of carbon fiber 3D printing technology and its application in parts industry
Reprint Statement: If there are no special instructions, all articles on this site are original. Please indicate the source for reprinting:https://www.cncmachiningptj.com/,thanks!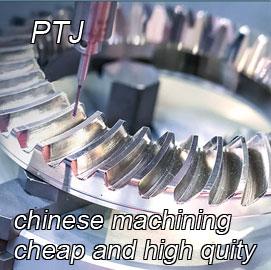 Our Services

Case Studies

Material List

Parts Gallery