How do I choose to buy a 3D printing pen?
3D pens are usually seen as small tools or toys for children who want to get into 3D printing. However, it is clear that these 3D pens are becoming more and more popular and complex, with more functions and compatible materials.
They make it possible to manufacture various parts and allow users to express their imagination and creativity at relatively affordable prices. The 3D pen is based on fusion deposition modeling technology and is an ideal substitute for desktop 3D printers in some applications. It is more convenient, smaller, and does not require 3D modeling skills or the use of a slicer: the parts are created directly from the 3D pen. However, please keep in mind that it has its limitations and is not suitable for the design of ultra-complex parts.
We have selected 15 best 3D pens for all 3D printing enthusiasts (children, fans and artists). They all meet different levels, because no matter your age or skill level, there are 3D pens.
3D printing pen: children
The main enthusiasts of pens are usually the children of the family, enabling them to create all the small sculptures they can imagine. This is why different brands are focusing on developing their versions of 3D printing pens, which are more oriented towards educated and younger audiences.
1. IDO3D vertical
With IDO3D Vertical, IDO3D launched a 3D pen, which creates a lot of creative space. It is especially suitable for children, because you can simply click on the connected color tube while drawing. They also have a tip that can be expanded with the included LED accessory. It also includes slides on which artworks can be erected and books explaining how to use the pen. The price of a set with a 3D pen is less than 10 euros and will vary according to the number of colors. As far as color selection is concerned, light tubes with special effects (such as flash) can also be provided.
2. MYNT 3D Junior
MYNT 3D Junior was developed for children, so it has a particularly ergonomic shape and a nib designed to prevent burns. Although it does not come with an adapter, the 3D pen relies on battery power and has a USB charging port. Commercially available 1.75mm PCL is suitable for this pen. The price of the 3D pen includes operating instructions, USB cable and 3 rolls of filament, starting at 50 euros.
3. 3DSimo basic
3DS pen 3DSIMO BASIC is suitable for children, just like MYNT 3D Junior, it also uses 1.75mm PCL filament. Among other things, the filament contained in the kit does not have to be cut, making it easy for children to use. The weight of this 3D pen is 73 grams. With dimensions of 150mm x 28mm x 22mm, it is also suitable for small hands. For less than 70 euros, you can get a pen, battery and the above 48 filaments.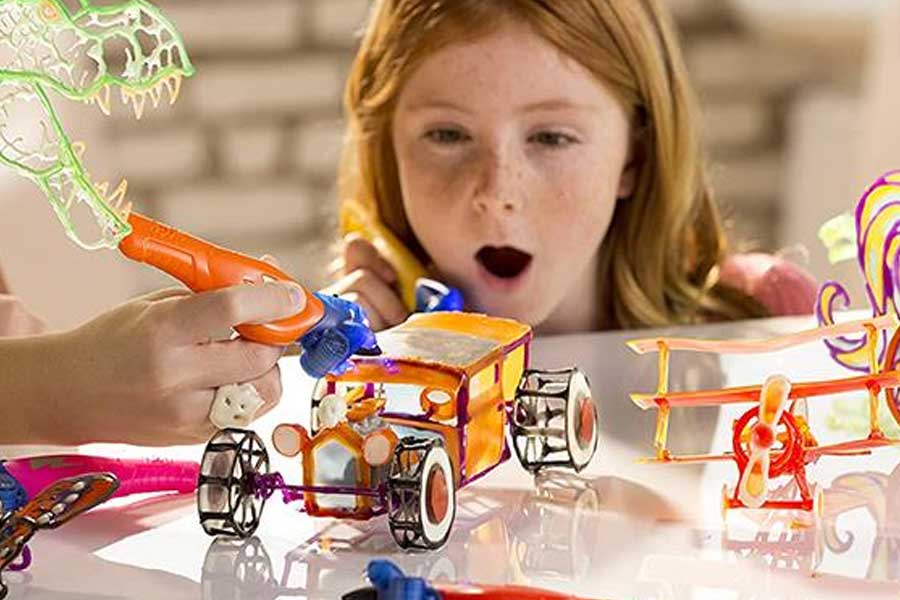 4. 3DoodlerStart
As the name suggests, 3DoodlerStart is very suitable for users who are starting to use 3D printing (in our case a 3D pen). Its particularity is the filament used, which is called "self-plastic". It is biodegradable, and the required extrusion temperature is much lower than traditional filaments (such as PLA or ABS), and children can safely touch the filaments. Other accessories are included with the pen. It has a rechargeable battery and can be purchased without a kit for $49.99.
5. Nulaxy 3D pen
Nulaxy 3D pen is the first 3D pen with voice prompts on the market, it can help children learn how to use this pen faster. It is controlled by two buttons, and the paper feeding is automatic, which can avoid hand fatigue. This 3D pen can be used with ABS and PLA filaments. The manufacturer explained that children under the age of 5 can use this pen because it is suitable for hand-holding. The pen is sold in a package containing 6 colors of PLA filament (10 feet each), and you can start using it immediately!
6. CreoPop 3D pen
Like the first pencil shown, CreoPop 3D can use cold ink, which means that it can use a gel that hardens due to ultraviolet light. One of its main features is the wide variety of inks available. There are also special filaments that glow in the dark, which provides many possibilities for children to create their own works. Therefore, the price of the 3D pen is higher than its competitors because it starts at $129.99.
7: SkyWriter 3D pen
SkyWriter V3 is a very lightweight 3D pen, weighing only 55 grams, developed with an ergonomic design, and very suitable for your hand. In addition, this 3D pen has been upgraded to include soft touch, intelligent control and easy operation. Its non-clogging nozzle automatically adjusts the temperature when extruding filaments. The manufacturer also enables users to control the extrusion speed of up to 8 speeds. Finally, this 3D pen can use ABS and PLA filaments at the same time. The starting price is $179.
8. Decale 07A
This entry-level 3D pen from the Chinese brand Dikale has a thin and light plastic body, which is very suitable for the user's hand. Dikale 07A can use ABS or PLA filament. It allows you to select the filament mode first and then the speed. There are three speed settings and extrusion temperature. Each of these options is controlled by a separate button: a button for filament section, speed selection, extruding and unloading filament. Therefore, it is not as easy to use as other pens on the market. You may need some practice to operate it correctly.
9. 3Dsimo MultiPro
For those who want to take it to a higher level, you can get closer to multifunctional tools. 3Dsimo has developed many 3D pens, one of which is the MultiPro tool. It is a 3D pen that can be converted into multiple uses. It can not only be used as a 3D pen, but also weld, burn and cut out foam. However, the latest models also provide more accessories, such as electric drills, electric screwdrivers, heat guns and saws. The device includes an OLED display that can display basic tutorials for each available accessory. Each tutorial provides a small guide on how to use the tools correctly to help you make the most of MultiPro.
10. 3Doodler Create +
The manufacturer Wooble Works is the origin of the first 3D printing pen, and it has specially developed Create + for all enthusiasts of 3D printing. It weighs only 50 grams, is light in weight, easy to operate, and has two simple extrusion methods. It is compatible with PLA, ABS and Flexy, and has a new, faster, smoother and more powerful control system. The basic price is $100, and you can add accessories such as a drawing surface or a portable battery.
3D Printing Pen: Artist
If you want to buy a 3D pen for more professional purposes, it uses different materials (such as filaments made of metal, wood, etc.), with higher precision and faster speed when fixing it, this is you The best choice.
11. Scribbler Duo
The US-based Russian company Scribbler has several models of 3D pens in its product line. Scribbler V3 is one of the most popular Scribbler V3, the price is about 99 US dollars. It has a ceramic extruder that can reach high temperatures and can print materials such as ABS, PLA, cork compounds, metals, bronze, etc. On the other hand, we found that Scribbler Duo, which integrates a dual extruder, can use two different colors or materials for creation at the same time. Both pens include an OLED screen to help you better control the device. However, Scribbler Duo has 6 different speeds, and the price is as high as $130.
12. Tecboss M1
The Chinese company Tebcoss owns various electronic devices, such as 3D pens. M1 is one of the most famous 3D pens. It was updated in 2019 and it integrates a smart chip that can control the temperature and speed of the pen. Unlike other brands of pencils that allow multiple filaments, M1 only supports PLA. Although this is a disadvantage, the fact is that the company only wants to dispose of odorless and non-toxic materials in order to make its products cleaner and safer. The other model it offers is the SL-300, which is different from the previous model due to its light weight. When it comes to long-term and expensive projects, the ergonomic design of the SL-100 can give you a firm, solid feeling for the best results. Price $59,
13. CoLiDo 3D pen
CoLiDo is committed to producing additive manufacturing tools, from 3D printers to filaments to 3D pencils. Similar to the other pencils already mentioned, the 3D CoLiDo pencil is known for its retractable nozzle, which means that you will not accidentally burn anything (or anyone)! This provides users with additional security. The price of this innovative tool is $70. It has buttons, is lightweight, and is easy to control and adjust. The packaging box usually includes many PLA and ABS filament strips, as well as power cords, manuals and various templates. There is no doubt that this is the right choice to unleash your imagination.
14. MYNT 3D pen
The 3D printing pen belongs to the California company of the same name. In addition to allowing the temperature to be adjusted from 130º to 230º, MYNT can also adjust the thickness and fluidity of the extruded material by having a variable speed control and an OLED screen. It also manages to change the temperature level step by step, so that the accuracy of the discharge is higher. When purchasing MYNT, the kit includes: 3D pen, 3 colors of ABS filament and 100-240V AC 50/60Hz adapter. Their current price is 70 US dollars (about 60 euros).
15. 3Doodler Pro
3Doodler, one of the most recognized 3D ballpoint pen companies. It started in 2012, and the first product earned 4 million U.S. dollars in revenue. They first launched 3Doodler Pro in 2016, designed for professionals. This 3D printing pen can use PLA, ABS, nylon, flexible materials and even polycarbonate for printing. It has an LCD screen that can adjust temperature and speed, and 6 interchangeable extruders. Its price is 249 dollars (approximately 214 euros).
Link to this article: How do I choose to buy a 3D printing pen?
Reprint Statement: If there are no special instructions, all articles on this site are original. Please indicate the source for reprinting:https://www.cncmachiningptj.com/,thanks!
---
Sheet metal, beryllium, carbon steel, magnesium, 3D printing, precision CNC machining services for heavy equipment, construction, agriculture and hydraulic industries. Suitable for plastics and rare alloys machining. It can turn parts up to 15.7 inches in diameter. Processes include swiss machining,broaching, turning, milling, boring and threading. It also provides metal polishing, painting, surface grinding and shaft straightening services. The production range is up to 50,000 pieces. Suitable for screw, coupling, bearing, pump, gearbox housing, drum dryer and rotary feed valve applications.PTJ will strategize with you to provide the most cost-effective services to help you reach your target,Welcome to Contact us (

sales@pintejin.com

) directly for your new project.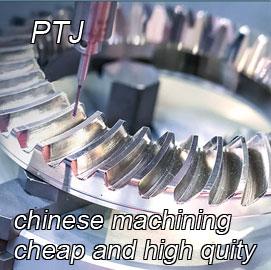 Our Services

Case Studies

Material List

Parts Gallery