Use chip breaking solutions to effectively cut low- and medium-carbon alloys
Low-carbon and medium-carbon steel almost constitute the main products of every workshop in its general engineering applications and manufactured parts.
They are defined by the percentage of carbon in the steel. Low carbon steel is 0.15% to 0.30%, and medium carbon steel is 0.30 to 0.60%. According to a report from cnccookbook.com, low carbon steel has a wide range of uses due to its good machinability, weldability and low cost. Most grades can be cold-formed or hot-rolled. Low carbon steel is used for parts that may undergo surface hardening but whose core strength is not critical. Considering the preferential price of this material, manufacturers usually use it for high-volume parts, such as screw machine parts, shafts, light-duty gears and wear-resistant surfaces, pins and chains. Other applications include weldments, gearboxes, transmission systems and general engineering parts.
However, mild steel has problems in turning, drilling and milling. They are soft, jelly-like materials that often form long and problematic chips. Not surprisingly, the most common problem with handling these steels is how to break the chips. The answer can be found in chip control through feed speed, depth of cut and selection of insert geometry.
Medium carbon steel has balanced ductility and strength, and has good wear resistance to large parts, forgings and automotive parts. Medium carbon steels are stronger and harder than low carbon steels, but they are more difficult to form, weld and cut.
Combination of processing and application
During the discussion, Director of Service and Application Engineering at Absolute Machine Tools in Lorraine, Ohio. Craig Adorni, Application Engineer of Absolute Machine Tool; Rich Ford, Senior Sales Engineer of Pittsburgh Kennametal Inc./MTI, outlined the method of choosing the right cutting tool and cutting data to meet the challenges of machining mild steel. Kennametal's Engineering Calculator or NOVO's proprietary cutting tool database can provide online information about the correct cutting tool, insert geometry, processing speed and feed suitable for the application.
Adorni pointed out obvious problems with drilling and chip breaking. "When you are drilling and the chips start to accumulate on the tool and the tool holder, you can't block the pile of chips, so you need to make sure to break the chips."
Zunis believes that if the chip is not damaged, it will have a certain impact on automation. He said: "If there is a pile of chips left on the drill or tap, they may prevent the robot from grasping the part." "The best milling applications will produce popcorn-like chips, which can actually hold six to nine. Small chips like popcorn are flying around. They are not connected to each other and do not act like long strings.
He continued: "However, for low-carbon steel, you can end up with wood chips like an eagle's nest, wrapped around the drill bit and thrown everywhere." He pointed out that usually, the blast cannot remove the chips-the chips need to be removed. broken. He said this can be done by increasing the feed rate or changing the geometry of the blade so that a small part of the chip will "essentially explode."
Running at a higher feed rate seems attractive. "However, customers are often afraid of running newer machines at the appropriate feed rate because they are'old school' and used to run too slow, which usually leads to excessively long chips," Adorni said. "However, if you can increase the feed rate, it is easy to chip. Some machinists do not take into account the newer technologies of CNC, blades and tools, which are designed for tools designed or developed when a specific feed rate is reached Yes, so you can break or break the chips. But if you can't get there and you don't use the tool geometry as expected, you will get a large long chip that can cause problems in the tool changer."
Launched new cemented carbide grades
Sandvik Coromant of Fair Lawn, New Jersey, said the new cutting tool technology provides a better way to approach these steel grades. The company introduced a new type of cemented carbide grades GC4415 / GC4425 with second-generation Inveo coating. The new grades also provide ISO-shaped and proprietary bagged blades, which are suitable for mass production and mass production of low-alloy steel and non-alloy steel.
"The new grade is new in every way," said Keith Brake, a turning expert at Sandvik Coromant. "We have improved the coating, substrate and post-treatment processes. These improvements provide us with a reliable and effective process for steel turning applications, because these grades perform well in both roughing and finishing applications and increase tool life. The new base material also enables GC4425 to perform well in interrupted cutting applications where other P25 inserts may encounter difficulties. All of this adds better performance and tool life to our customers."
Brake believes that in all machining applications, chip control is essential. This is especially difficult in soft materials such as mild steel (such as low carbon steel). "Uncontrolled chips can cause premature blade failure, scrapped parts or most seriously injured employees. Sandvik Coromant has a variety of chipbreaker geometries, of which "LC" is the first for this type of application. This Combining chipbreakers with appropriate cutting data can produce excellent results.
He continued: "For customers who want to increase productivity, we have also released new grades in the CoroTurn Prime series." "PrimeTurning is not a new technology, but we have noticed that tool life and new steel turning grades (especially The consistency of the 4425 CoroTurn Prime'B' insert) has been significantly improved. For CoroTurn Prime, it is not uncommon for the roughing cycle to be reduced by 30%." He also said that CoroTurn Prime does not require any auxiliary tools to create radii and Square shoulders.
Brake said that Sandvik Coromant has documented a case study of its GC4425 / GC4415 inserts, "In many steel turning applications of different materials, the grades have been released." "The automotive and general engineering industries can make good use of the new grades. , But these grades are not limited to these areas. If you want to turn steel, GC4415 and GC4425 will provide improvements."
Another problem with the stickiness of mild steel is that it tends to create a build-up edge (BUE) on the tool. Randy Hudgins, National Product Manager for Turned and Threaded Products, said Iscar USA in Arlington, Texas used several different approaches to solve this problem. Iscar's Sumo Tec surface treatment can smooth the top of the blade, making it easier for the material to slide on the blade, thereby preventing BUE. In addition, Iscar has recently developed a series of new chip formers for steel processing, from heavy cutting to finish cutting.
Hudgins said: "The important help for our customers is the name of the chip manufacturer." "It enables the end user to easily identify and select the appropriate chip former. For example, let us use a dash M3P chip to form The first letter M indicates the application of the medium, the third letter indicates the feed rate of the standard medium, and the last P indicates the material (steel). Iscar goes all the way to F1P, F indicates finishing, F indicates low feed rate , P stands for steel."
Chip control is critical in high-volume production industries such as automobiles, which use low-carbon steel for transmission shafts, steering shafts, and various shafts. Why? The automotive industry relies on the use of a lot of robotics and cannot afford to stop production when cleaning the chips in the machine. According to Hudgins, this is especially true where you need to make continuous turns for a long time.
He said: "We have encountered many production machines for processing mild steel parts, including multi-spindle, dual-spindle and multi-spindle machines, as well as Swiss-style and CNC automatic lathes."
As an alternative to conventional ISO turning inserts, Iscar has launched the CXMG Logiq4Turn product line, which doubles the cutting edge of positive rake inserts used in conventional turning applications. "This is an economical solution for 80° turning, and provides a double-sided positive four-edged cutting edge, which can easily replace a positive two-edged cutting edge. The dovetail shape is suitable for the unique groove design to ensure better insert positioning and stability. To ensure a longer blade life." Hudgins said. "The holder can be with or without a through coolant channel."
In addition, the new double-sided CXMG blade works similarly to the CCMT positive blade and can replace the standard CCMT blade. In some applications, such as long shafts, the positive geometry of CXMG can relieve a lot of pressure and still have strength, and because of the dovetail geometry, it can also replace standard negative CNMG blades.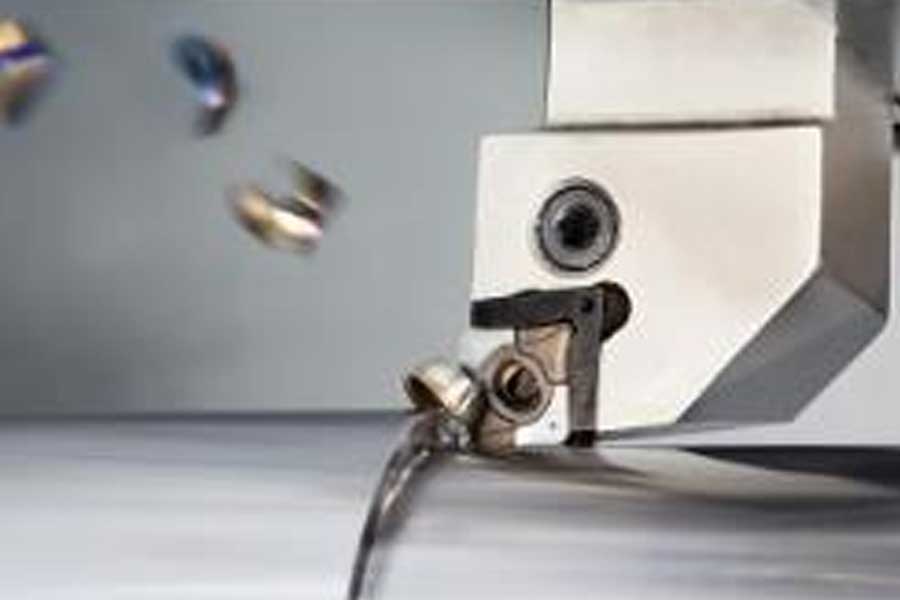 Challenges of drilling and boring
Jack Burley, vice president of sales and engineering at BIG Kaiser Precision Tools in Hoffman Estates, Illinois, agrees that mild steel faces challenges due to its stickiness in hole processing such as drilling and boring. "From my point of view, many companies believe that low-carbon steel is easy to process. This is based on their success in hole-making tools, usually drills and boring tools purchased from us. [However,] Low-carbon steel The low tensile strength of steel requires several items in the tool geometry to be able to successfully drill and boring. For the drilling depth, you really should have enough pressure to guide the coolant directly and accurately into the chips to break the chips. "Burley said.
For deep hole drilling, coolant is especially important, for example, in vertical deep hole drilling, the chips must be drained. "What I call deep hole drilling is four times the hole diameter," said Zunis of Absolute Machine Tools. "Usually, a multiple of three times or less is considered normal, but if you want to cut 4 times, 5 times, or 6 times the chip diameter, you need to remove the chips from the hole." Use high-pressure coolant when drilling It is advantageous, but without sufficient feed speed, even the coolant will not help you damage the chips. Feed speed, depth of cut, and the use of suitable inserts and tool holders are the main catalysts that cause chip breakage. "
Burley said that BIG Kaiser offers various types of drills, including carbide drills, spade drills and indexable drills. He added: "However, in the case of indexable drills, the feed rate you need to interrupt the chips is too large to exceed the capacity of the equipment."
The same is true for the hole processing in the welded parts of agricultural and construction equipment and mechanical frames, where mild steel is usually used. Burley said: "Metal is usually not as pure as it comes from a foundry, so you have to deal with many fragments in the material. These fragments may be difficult to process." "In these areas, this is double trouble because when you look at the assembled parts When you are adding holes for large thin-walled workpieces, and there is not much structure behind these workpieces. When you start to push the weldment or frame, it will bend and spring back a bit, which is difficult on drills or boring tools. Especially when it comes to roughing. Over the years, our work has focused on different methods of handling such parts and holes, including circular milling for particularly large holes."
According to Burley, boredom is another story. As the holes used for fabricated weldments become larger, the workshop will not use drills to burn the holes, instead of drilling holes, but use a double-edged milling cutter to use square inserts and double holes for balanced cutting to make holes. Countersinking on knives and machines is difficult, but with the right tools, the right feed and speed, and the right blades, the shop can use the application very effectively.
"When the cutting depth is less than 0.020 inches (0.508 mm), the chip is almost impossible to break. It will start to wrap around the tool like a shoelace, bringing a lot of trouble to the surface finish and processing. When you try to use different When the speed and feed are applied and the coolant is applied, a higher feed rate and a deeper depth of cut will eventually be obtained. All these factors together lead to a higher surface finish and tighter tolerances."
Last year, BIG Kaiser introduced a unique chipbreaker for fine boring mild steel. Burley said: "The ELM geometry of these blades can be reduced to a 0.008 inch (0.2032 mm) nose radius. The chip breaker has been pressed into the blade, so we can tightly take up the chips. Even a thin DOC, It can reduce chips less than 0.010 inches (0.254 mm), and we can still roll the chips well, reducing the trouble of pulling the chips out of the holes."
Link to this article: Use chip breaking solutions to effectively cut low- and medium-carbon alloys
Reprint Statement: If there are no special instructions, all articles on this site are original. Please indicate the source for reprinting:https://www.cncmachiningptj.com/,thanks!
---
Sheet metal, beryllium, carbon steel, magnesium, 3D printing, precision CNC machining services for heavy equipment, construction, agriculture and hydraulic industries. Suitable for plastics and rare alloys machining. It can turn parts up to 15.7 inches in diameter. Processes include swiss machining,broaching, turning, milling, boring and threading. It also provides metal polishing, painting, surface grinding and shaft straightening services. The production range is up to 50,000 pieces. Suitable for screw, coupling, bearing, pump, gearbox housing, drum dryer and rotary feed valve applications.PTJ will strategize with you to provide the most cost-effective services to help you reach your target,Welcome to Contact us (

sales@pintejin.com

) directly for your new project.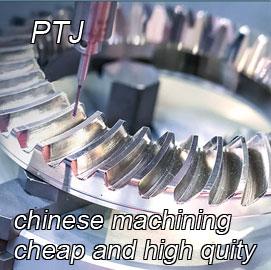 Our Services

Case Studies

Material List

Parts Gallery