A variety of metal materials are 3D printed at once
It was learned from foreign media that a research team at Washington State University used 3D printing technology to print a structure composed of two different materials at once. If you use multiple materials to 3D print a part at one time, will this part have some excellent properties?
So far, 3D printing has often been restricted to using only one material at a time. This advancement will help manufacturers reduce production steps and use a single machine to produce complex products with multiple parts in a single operation. They can also better control the material's thermal conductivity, anti-corrosion, and environmental adaptation properties.
The research team, led by professors from the School of Mechanical and Materials Engineering of the Amit Bandyopadhyay, Herman and Brita Lindholm Foundation, used 3D printing technology to print a ceramic and metal composite structure so that one end is non-magnetic and the other end is magnetic.
Bandyopadhyay said: "This is a step towards the next level of manufacturing and next-generation design, verification, optimization and manufacturing using 3D printing."
Researchers used this technique to print out nickel-chromium and copper structures. Generally, Inconel 718 is used for sheet metal parts of aircraft engines and liquid fuel rockets. Although this material can withstand high temperatures, it cools very slowly.
It is speculated that the combination of the two aerospace alloys to form a unique bimetallic structure, compared with Inconel 718 alloy, its thermophysical properties can be improved. The researchers used two methods: Direct deposition of GRCop-84 on Inconel 718 and hybrid printing of the two alloys. They found that adding copper in the 3D printing process can increase the cooling rate of the part by 250%, which can ultimately translate into higher fuel efficiency and longer aircraft engine life. The structure with design composition levels and tailor-made thermal properties has developed the possibility of multi-material metal additive manufacturing for the next generation of aerospace.
Bandyopadhyay said: "Multi-material additive manufacturing opens the door to new types of creation. It makes us bolder and more creative."
This research was funded by the Joint Aerospace Technology Innovation Center, the National Science Foundation, and NASA's Marshall Space Flight Center.
According to Antarctic Bear's understanding, Hangzhou Dedi Smart exhibited products with the same concept during the TCT exhibition held in Shanghai in March 2018, which is called Material Mixed Structure 3D Printing (MMSLM). The biggest feature of this technology is that it can achieve mixed-structure printing of different powders, and is suitable for processing metal devices with different requirements for different parts (which can improve device performance and increase service life). Domestic companies are at the forefront of this technology in the world.
Link to this article: A variety of metal materials are 3D printed at once
Reprint Statement: If there are no special instructions, all articles on this site are original. Please indicate the source for reprinting:https://www.cncmachiningptj.com
---
PTJ® is a customized manufacturer that provides a full range of copper bars, brass parts and copper parts. Common manufacturing processes include blanking, embossing, coppersmithing, wire edm services, etching, forming and bending, upsetting, hot forging and pressing, perforating and punching, thread rolling and knurling, shearing, multi spindle machining, extrusion and metal forging and stamping. Applications include bus bars, electrical conductors, coaxial cables, waveguides, transistor components, microwave tubes, blank mold tubes, and powder metallurgy extrusion tanks.
Tell us a little about your project's budget and expected delivery time. We will strategize with you to provide the most cost-effective services to help you reach your target,You are welcome to contact us directly (

sales@pintejin.com

) .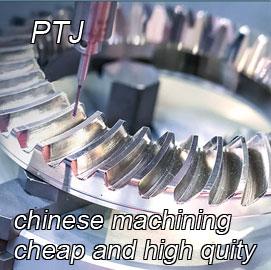 Our Services

Case Studies

Material List

Parts Gallery